Take up less space at your work station!
Our carefully selected line of compact payment terminals allow you to easily and securely process payments. Economical rental or lease to own options put any model in your reach. All devices support a full range of payment options including credit, debit, digital wallets like Apple Pay® and PayPal, and electronic benefits transfer (EBT). We embed powerful security in all devices, so you can rest assured sensitive cardholder data is secured.

Highest Security
The iSC Touch 250 meets the industry's highest and newest hardware and software security requirements and is PCI PTS 3.x & 4.x certified. It complies with SRED and Open protocol modules, and supports all point-to-point encryption (P2PE) solutions for reduced PCI DSS scope.
All Payment Options
The iSC Touch 250 accommodates all forms of payment including EMV chip & PIN, chip & sign, magstripe, signature capture, and NFC/contactless. It also supports new options such as NFC loyalty, couponing, wallets and QR codes.
Designed for Retailers
Designed for use in demanding multi-lane environments, the iSC Touch 250 features a glass display that is highly resistant to impact and scratches, with a lifespan of 1,000,000 signatures. Its dual-head magstripe reader reduces read errors, while its smartcard reader withstands 500,000 card insertions. Single-cable multi-point mono connector ensures easy integration & terminal replacement.
Fast Checkout
The optimized glass display on the iSC Touch 250 reduces reflectivity and assures outstanding readability even in poor lighting. On the iSC Touch 250, the keypad is large, backlit and ADA-compliant. The fast processor guarantees instant, accurate transactions.
Electronic Signature
The iSC Touch 250 provides high quality, durable signature capture for electronic payments, receipt storage, and business applications, such as contracts, warranty programs, and enrollments. Authentication with biometric signature is available, including speed and screen pressure for better recognition.
Real Multimedia
The powerful hardware video decoder plays multimedia content from the standard ultra-compressed H264 codec using a speaker and a stereo-out headset. The iSC Touch 250 is equipped to manage image libraries, touchscreen and multimedia.

Download Ingenico iSC Touch 250 Brochure Guide

Ingenico MOVE 5000 Pop up Kiosk? Outdoor Festival? Deliveries? Food Trucks? Farm Stands? We've got it covered! Designed for mobility, this is a perfectly portable card reader that's up to the task wherever you're working. With touchscreen convenience and full mobility, you have WiFi, Bluetooth, and 4G/LTE coverage backing you up in the field.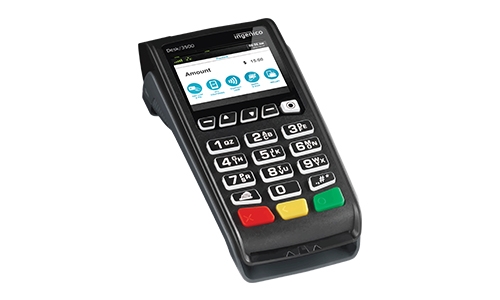 Ingenico DESK3500 Ideal for professional services, traditional store fronts, or anywhere your customers pay in-person, the Ingenico DESK/3500 is a proven winner at the counter.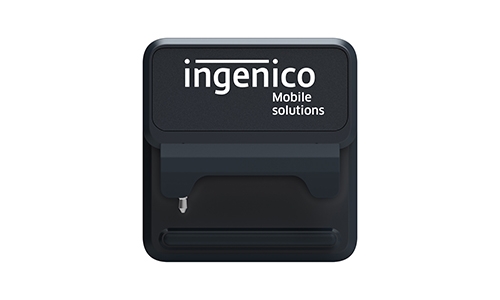 ROAM RP457c | Get paid before leaving the job site by converting a smart phone into your own personal payment machine. Talk about cost-effective! Ideal for tradesmen, landscapers, delivery personnel and anyone conducting business out in the field.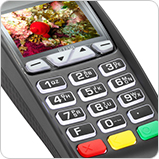 Ingenico ICT250 | This integrated, all-in-one terminal features everything you need to easily and rapidly process payments. With contactless payment capabilities and compact hand-held design, it accepts all payment types, and is ready for EMV chip cards to protect you and your customers from counterfeit card fraud.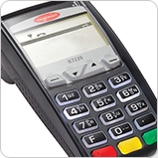 Ingenico ICT220 | This terminal is easy to read with a black and white screen for crisp visual clarity and features everything you need to easily and rapidly process payments. And paired with the iPP320, you can accept both EMV chip card and contactless payments.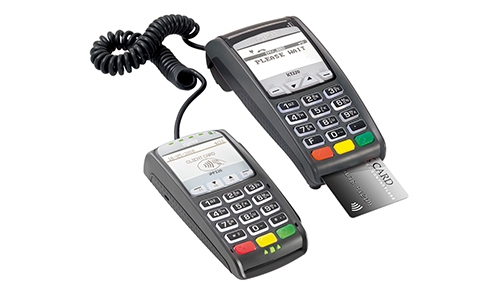 Ingenico iPP320 |This fast, secure PIN pad is designed for the rigors of a fast-paced retail environment. Compatible with Ingenico iCT250 and Ingenico iCT220 models, and provides multiple connectivity options, including USB or serial (RS-232) port, or Ethernet.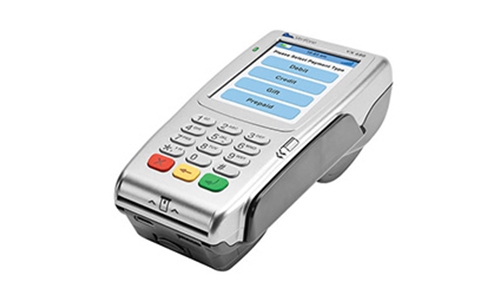 Verifone Vx680G | This wireless payment terminal keeps merchants on the move. The VX680G boasts a powerful processor for ultimate speed, keeping the lines moving so customers don't have to wait. It is easy to handle, and the brilliant color display helps visibility. Supports EMV / chip card and mobile wallet payments as well.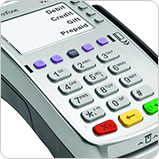 Verifone Vx520 | Ideal at the counter, the ergonomic makes it easy to hand over the device to your customer to complete their transaction. This all-in-one secure device features a user-friendly ATM-style interface and supports EMV/chip cards, to better protect you and your customers from counterfeit card fraud. It can be paired with the VX820 PIN pad for an additional layer of cardholder validation and to use as a handover solution.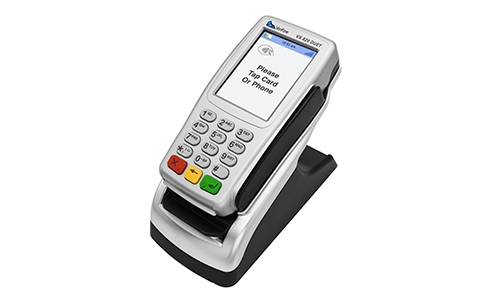 Verifone Vx820 | This high-performance, touch-screen PIN pad is compatible with the Verifone VX520. With a blazing fast processor and 160MB of memory, it offers an easy and secure customer experience for PIN entry.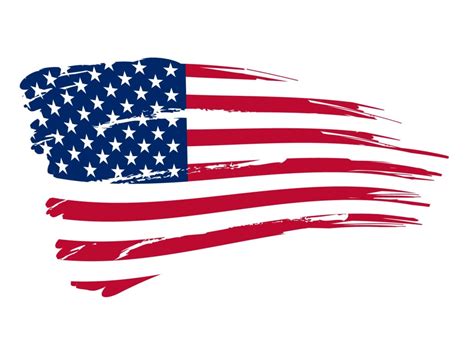 PPS USA
More than just a Merchant Services Provider!
One Stop Shop
We'll deliver everything you need to build your payment solution: from installing hardware and training staff to use it, to providing ongoing support and payment reports. We're a one-stop shop for all your payment needs.
Trusted Technology
Our best-in-class technology is used by businesses across the world and we handle billions of transactions annually. We offer exceptional reliability rates and process card payments in a matter of seconds.
Data Security
Wherever you take payments, we'll protect your customers' data with sophisticated PCI DSS security measures, which include P2PE encryption, safe storage and tokenization to disguise sensitive payment information.
Currency Conversion
Open your doors to international customers with Dynamic Currency Conversion and Multi Currency Conversion. Let customers see prices, and even pay, in their home currencies to reduce the risk of chargebacks.
Security
We implement cutting-edge fraud prevention measures and protect payment data with P2PE encryption and tokenization.
Payment Gateways
If you need to add online payments to your website, our hosted payment gateway represent a simple, secure way to deliver that functionality. Choose from a range of hosted options, or a fully integrated API, and begin selling to customers, on any device, in any part of the work, quickly and conveniently.